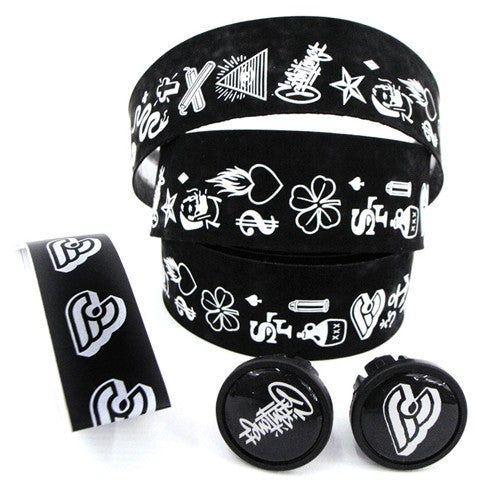 Mike Giant Velvet Bar Tape
by Cinelli
Original artwork by Mike Giant for Cinelli inspired by vintage tattoos
Velvet texture
Suitable for all bicycle handlebars.
Includes custom caps and finishing tape

In the late 2000s, with increasing excitement over the fixed-gear movement, and in particular over Cinelli's collaborations and friendship's with MASH and RVCA, Cinelli Cinelli found it traveling to California more and more frequently and socializing in the new scene created around these bicycles. On one of these trips in 2008 we met Mike Giant, already a world-renowned tattoo artist working more and more in illustration. As well as being an avid everyday rider, Mike had an extremely strong interest in fixed gear bikes, their subversive politics, and the kids riding them. In Cinelli he found not only an eager and willing partner for bringing his drawings into explicit contact with the fixed-gear movement on a global level. This bar tape represents one in a series of products featuring artwork created exclusively by Giant for Cinelli.